Professor CHEUNG Yuet-wah, Head of Department of Sociology, said that the curriculum of the department has undergone major revisions in the past three or four years in order to follow current trends of developments in sociology. Two concentrations were introduced, as a result. On the 50th anniversary of Shue Yan University, the Department of Sociology shows its uniqueness and builds up subject specificity to achieve the ideal state of both "extensiveness and specialization."
Professor CHEUNG joined Shue Yan in September 2016. He had been working at the Department of Sociology at the Chinese University of Hong Kong for more than 20 years. When interviewed by Shue Yan Newsletter, he expressed that Shue Yan has always included sociology foundation courses, but the curriculum lacks a structure for students to develop study plans. Therefore, a series of "reconstructions" were commenced. Two concentrations are added, including "Entrepreneurship and Community" and "Culture, Heritage and Innovation." The aim is to make the curriculum both "extensive and specialized."
He indicated that, compared to sociology programmes in other institutions, the sociology curriculum provided by Shue Yan is unique because it offers more opportunities to practice. In addition to that, the department keeps improving the connectivity between practice and application. The two concentrations can help intensify the "practical experience" objective of the department. Students can participate in organizations such as social enterprises for internship, where they can apply sociological concepts and theories to their internships, thereby increasing their employability and fulfilling social responsibility.
Professor CHEUNG mentioned the new curriculum has been approved by the Academic Board in 2020, and the concentration courses will begin to be offered to Third Year students in the 2021-22 academic year.
Regarding research activities, according to Professor CHEUNG, the Department has been vigorous in the research endeavours and has exceptional records of receiving research grants. For example, he collaborated with five colleagues from different departments and obtained HK$3.46 million funding from the Institutional Development Scheme Collaborative Research Grant (2019-2020) of the Research Grants Council, to do a project on youth identity status and its psuchosocial correlates. Apart from that, Professor CHAN Ching Selina, concurrently the Associate Academic Vice President (University Research), received funding to do a research project on the changes of Yulan Festival of the Hong Kong Chiu Chow Community in Hong Kong. Other colleagues of the department have also received funding from different sources, including Lord Wilson Heritage Trust, Beat Drugs Fund, Public Policy Research Funding Scheme managed by the Policy Innovation and Co-ordination office, etc. In the beginning of the 2019-2020 academic year, the total research funding obtained by the Department added up to almost HK$6 million.
Professor CHEUNG said the research projects conducted by the Department will make contributions to society. For example, the research team of the youth identity status project will collaborate with government, NGOs, and individuals involved in youth work on the improvement of youth services. Research on Yulan Festival will assist Hong Kong to introduce and pass on Chinese culture through knowledge transfer. The evaluative study of a life planning progamme will find out how it would enhance the relapse prevention ability of young treated drug abusers.
Looking forward, Professor CHEUNG said, the Department of Sociology is exploring the possibility of developing a new programme along the direction of culture and heritage. Hopefully, the manpower in the department could be expanded to meet the needs in developing the new programme. He also said colleagues in the Department are in high spirit in raising the standard of teaching and research. Externally, how to improve admission results has remained a great challenge in the past several years. Also, he mentioned that there is the need to foster stronger connections between the department, alumni and employers, as the Department would benefit from the feedback and advice of these stakeholders through more interactions and communications with them.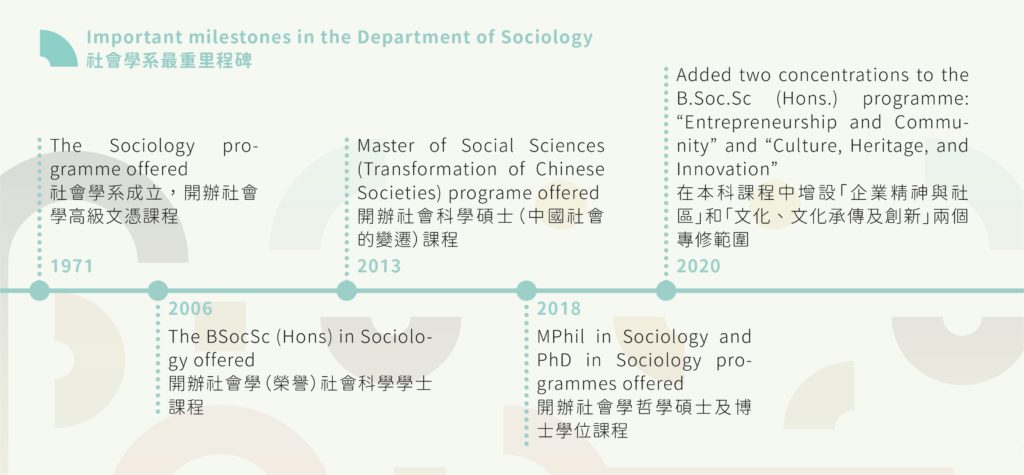 Source:50th Anniversary Special Issue