Professor SUN Tien-lun Catherine, Academic Vice President of Hong Kong Shue Yan University, said that Shue Yan will reinvent its liberal arts education with information and digital technology, as well as digital humanities. She believes that with the gradual application of information and digital technology to teaching and research, it will mark a new beginning of enhanced learning experience for students while simultaneously advancing university research.
In an interview with Shue Yan Newsletter, Professor SUN said that the reinvention of Shue Yan's liberal arts education means that in this Information Age, Shue Yan, as a liberal arts university, is striving to enrich teaching and learning through infusing information and digital technology, as well as the many tools available, in various disciplines. In time, Shue Yan hopes to carve a niche in digital humanities – the intentional collision of humanities with digital science.
Changes in pedagogy
Professor SUN pointed out that pedagogical changes will follow naturally when instructors start using information and digital technologies and tools. Their teaching approach is no longer limited to only their PowerPoint presentations, but also using a variety of immersive technology such as VR and AR. This also changes the landscape of the conveyance of knowledge, from a one-way pathway to a much more interactive experience with students. With the recent grant of HK$22.6 million from the Quality Enhancement Support Scheme (QESS) under the Self-financing Post-secondary Education Fund, the University will be able to design 20 new courses with VR/AR content.
"These pedagogical changes utilizing immersive technologies will be quite exciting for students. For instance,  taking the Zhoukoudian Site in Beijing which existed between 200,000 and 500,000 years ago, or Shanghai in the 1920s and 1930s, students won't just be reading about what life was like in those periods, they would actually be able to experience them, and formulate in-depth reflections," Professor SUN said.
Professor SUN said that digital humanities is in fact not a brand new idea. As early as the 1940s, there were voices advocating the use of computers in analysing humanities and social science data. With the development of technology, digital tools and platforms such as DiRT (Digital Research Tools) and TAPoR (Text Analysis Portal for Research) have been widely used by researchers. In recent years, big data technology has entered the spotlight as it can provide researchers with unprecedented amounts of data, which will enable the exploration into new research topics and research directions, such as hashtag research on social media.
Professor SUN also pointed out that learning how to apply big data and other technologies is very important for students, especially those of the Department of Journalism and Communication, because the industry is in need of talents in this area to write news articles and conduct marketing campaigns.
Digital humanities bring about "dynamic effect"
In the interview, Professor SUN emphasised the importance of the dynamism in incorporating technology into disciplines for digital humanities. She said, "For example, in exploring the dynamic results of language learning through neuroscience, the learning response of second language learners would first be recorded through electroencephalography (EEG), so as to identify the parts of the brain different learners use for learning. Before putting them to learning, they will undergo targeted brain training to further optimise the learning effect. Under such dynamism, there would be new knowledge, as well as new perspectives and directions for research."
Professor SUN also pointed out that the interdisciplinary dynamism could bring advantages to both teaching and learning. For example, in the interdisciplinary effort between history and archeology, digital technologies such as VR and AR have been adopted to create a refreshing learning experience for students. "With technology, we are able to transform textual descriptions or oral explanations of teachers into vivid and lifelike images. This kind of experiential learning not only produce better results, but also arouse students' learning interest."
New big data, AI & AR/VR labs
Professor SUN said that Professor CHAN Ching Selina, Associate Academic Vice President (University Research), received the funding to establish a virtual Hungry Ghosts (Yulan) Festival museum. Her work significantly embodies Shue Yan's emphasis on digital humanities. The University's newly established facilities, including Big Data Laboratory, Social Robotics & Digital Living Lab and Virtual Reality Lab, have been opened for use since September. Amongst them, Big Data Lab and Social Robotics & Digital Living Lab have been made a reality thanks to a donation of HK$20,000,000 from the iFREE GROUP. The establishment of these labs will become the major supporting force in promoting digital humanities at Shue Yan and facilitating the University's mission to reinvent liberal arts education.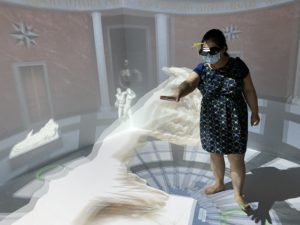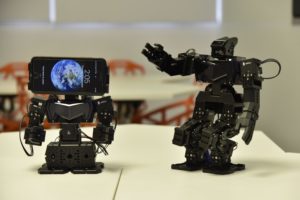 Government funding granted to develop online teaching
Speaking of supporting digital humanities and online teaching, Professor SUN said that the University will spend the $22.6 million funding from the QESS to develop online teaching and assessment schemes and a new online teaching platform. In order to enhance teachers' online teaching skills, Dr. CHAN Kit Sze Amy, Associate Academic Vice President (Teaching and Learning Development), also the person-in-charge of this project, will launch a series of lectures and workshops with the University's Advancement of Teaching and Learning Committee. She calls for all teachers of the University to adopt digital technology and online teaching tools to elevate students' interest and effectiveness in learning.
Establishing a digital humanities research platform
Professor SUN also said that the University will seek research funding for establishing a digital humanities research platform to further the implementation of digital humanities. Under the platform, information and digital technologies suitable for teaching and research can be identified through evidence-based research.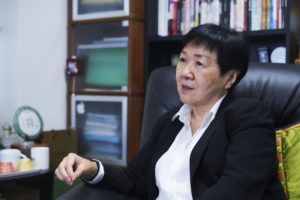 New undergraduate programmes
Talking about other academic developments, Professor SUN said in terms of the undergraduate programmes, the University plans to launch the Bachelor of Arts (Hons) in Media Design and Immersive Technologies and Bachelor of Science (Hons) in Applied Data Science in September 2021 and September 2022 respectively. The former will have a core focus on immersive digital media technologies such as VR/AR, whilst the latter will be more on the application of Big Data technologies. There is no plan for other new programmes at present.
"However, we will review the content of our existing curricula to make sure that they stay current with market needs. One such example is that we considering adding an e-commerce concentration to our Bachelor of Business Administration (Hons) Programme." Professor SUN said.
New taught masters' programmes
Talking about the postgraduate programmes, Professor SUN said the University plans to roll out 2 new programmes: Master of Social Science in Play Therapy in 2022 and Master of Social Work in 2023. Furthermore, the Department of History has been exploring the possibility of launching a Master's programme in urban history.
According to Professor SUN, the Periodic Institutional Review, which is conducted once every five years by Hong Kong Council for Accreditation of Academic and Vocational Qualification (HKCAAVQ) is going ahead in the current academic year.  HKSYU will choose a programme from each of the three faculties for review by the Council, and preparation work started last year with gathering feedbacks from heads, associate heads and programme directors. "We want to get as many of the stakeholders involved in developing our 5-year strategic plan. The first full draft of the report should be ready in November." She said.
The meaning of the Shue Yan Motto
In the interview, Professor SUN also talks about how Shue Yan acts on its commitment to its mission and motto under the impact of the COVID-19 pandemic on normal academic schedules and the acceptance of students for direct Year 3 entry.
"We sincerely hope that the culture of Shue Yan, its pedagogy and the quality interactions between faculty and students will enable the sowing of the seed of the University motto: cultivating virtues of benevolence; broadening horizon and knowledge. No matter when new students come to join us – at Year 1, 2, or 3, we will do our best to help them mature into honourable individuals who are considerate, kind and benevolent, and would treat others with respect." She said.
According to Professor SUN, the concept of empathy as is encompassed in the motto refers to "the capacity to step into the shoes of another person and understand or feel what he/she is experiencing". She said: "This gives us the capacity to consider others' best interest, and is extremely useful when interacting with others and contributing in the best way possible to society."
"'Broadening horizon and knowledge' in the motto can be interpreted as the pursuit of a broad-based knowledge garnered from different disciplines, as well as the ability for independent and critical thinking. To achieve this, students may, for example, gain insight into a number of fields through our General Education courses." She said.
Professor SUN emphasised that Shue Yan will remain loyal to its goals and missions in the journey of reinventing its liberal arts education, and attaches great importance in nurturing young talents who can think critically and independently.
Source: September 2020 Issue
Scan QR code with your phone