Hong Kong Shue Yan University (HKSYU) has been actively developing academic research. In recent years, more and more resources have been devoted to academic research. Professor CHAN Ching Selina, Associate Academic Vice President (University Research) of HKSYU, in an interview with Shue Yan Newsletter indicated that the university will continually promote "Digital Humanities" as the direction to conduct more socially beneficial and influential research, in order to help different stakeholders in the society.
Professor CHAN pointed out that "research" is generally divided into two parts: organizing academic seminars and publishing academic articles separately. In the past 20 years, HKSYU has organized many academic seminars and published multiple academic articles. Meanwhile, HKSYU's research centers have increased from 1 in 1996 to 12 now. This shows that HKSYU is continually increasing efforts on promoting research, and the position and role of research at HKSYU has evolved from the "teaching-led, research-informed" to "teaching-led, research-active".
"Bringing benefits and impact to society is the general direction of HKSYU's research projects and development research," Professor CHAN said.
Professor CHAN also stated that, in recent years, HKSYU emphasized the need to promote "digital humanities" through the development of research, to encourage academic staffs to use information technology or digital media technology to conduct research, or use information technology or digital media technology to publish related research results.
"'Digital Humanities' may be a bit abstract for everyone and difficult to understand, but actually, it is a concept. Scholars can use their own imagination and develop different types of research or promotion of research results in appropriate methods based on personal research interests, combined with information technology or digital media," Professor CHAN said.
Professor CHAN hopes that colleagues can use "digital humanities" to conduct research and bring more positive impacts to society, such as policies that help public education or policy makers planning. She used her ongoing Yu Lan Festival of the Hong Kong Chiu Chow Community Project as an example, and pointed out that the project uses digital technology and media technology to establish a virtual museum and present the research results. She expects the virtual museum to be launched at the end of 2023.
In terms of research funding, Professor CHAN stated that there is no shortage of research funding for colleagues who are interested in carrying out research projects. Besides the funding from the Research Grants Council, the Innovation and Technology Bureau and other government departments, non-governmental organizations and different types of societies welfare institutions, there is a variety of research funding for academic staff of post-secondary institutions to apply. In the past two years, HKSYU has received funding from at least 26 institutions for related research activities (see the table). She believes that the chance of obtaining research funding will increase as long as the research proposal is well written. She encourages academic staff to communicate with her or other active researchers before conceiving and writing research plans to increase the chances of acceptance for research.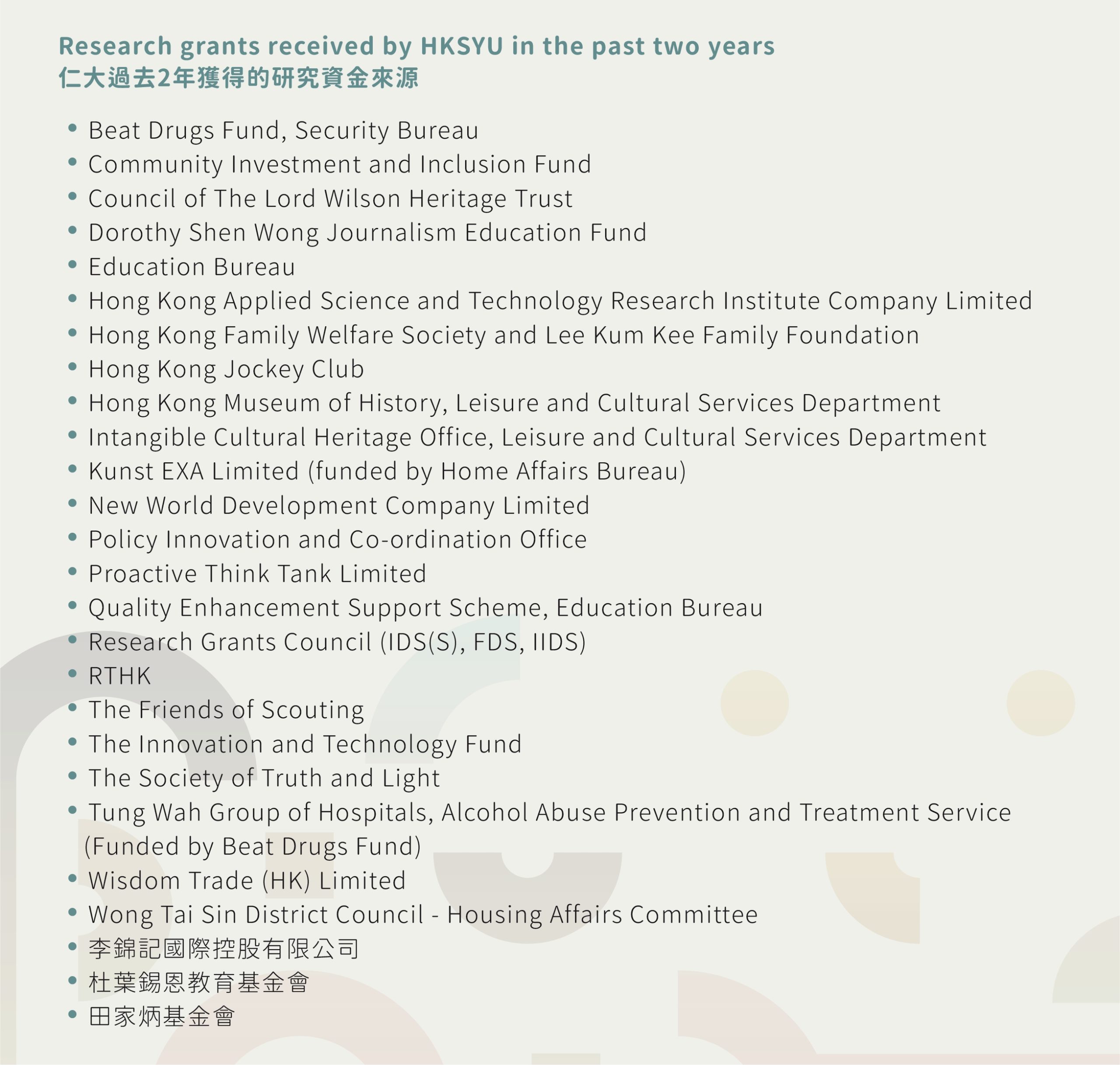 Source: 50th Anniversary Special Issue