Dr. HU Hung Lick, Henry, President of Hong Kong Shue Yan University (HKSYU), celebrated his 101st birthday with university staff, alumni, and friends in person and via Zoom on February 26, 2021.
In the letter released by Dr. HU Fai Chung, Deputy President, on the same day, he stated that several students, staff, alumni and community leaders suggested to host a party to celebrate Dr. Henry HU's 100th birthday last year. "President HU would like to acknowledge everyone for the love and care shown to him, but he just wished to celebrate his birthday in a simple and familial way. Birthday is a kind of personal matter after all. Indeed, Shue Yan is looking forward to our 50th anniversary this year. It is the achievement of everyone's contribution throughout the years, which is even more worthy to commemorate."
Dr. HU Fai Chung: Preserving the virtues of benevolence
Dr. HU Fai Chung said Shue Yan's motto, "Cultivating virtues of benevolence; broadening horizon and knowledge" (敦仁博物), tells a plain but profound message on how we live our lives. While remaining "constant" in defending our moral values, we strive for "change" and innovation in the pursuit of knowledge.
Founded by Dr. CHUNG Chi Yung in 1971, the name "Shue Yan" (樹仁) was chosen as she saw benevolence (仁) as the core value and foundation to a university. Shue Yan is committed to cultivating the virtues and rightful mindsets among students, that is, "wishing to be established himself, seeks also to establish others; wishing to be enlarged himself, he seeks also to enlarge others." Dr. HU Fai Chung emphasized that this commitment will never change for it is the basis for Shue Yan's development.
Dr. HU Fai Chung said, in cultivating virtues of benevolence, Shue Yan is equally committed to embracing changes, seek greater perfection in knowledge, and to pursue innovation. Shue Yan has started to reinvent its liberal arts education and promote "digital humanities" a couple of years ago, applying information and digital technology to teaching and research, in order to prepare students to face challenges in the future.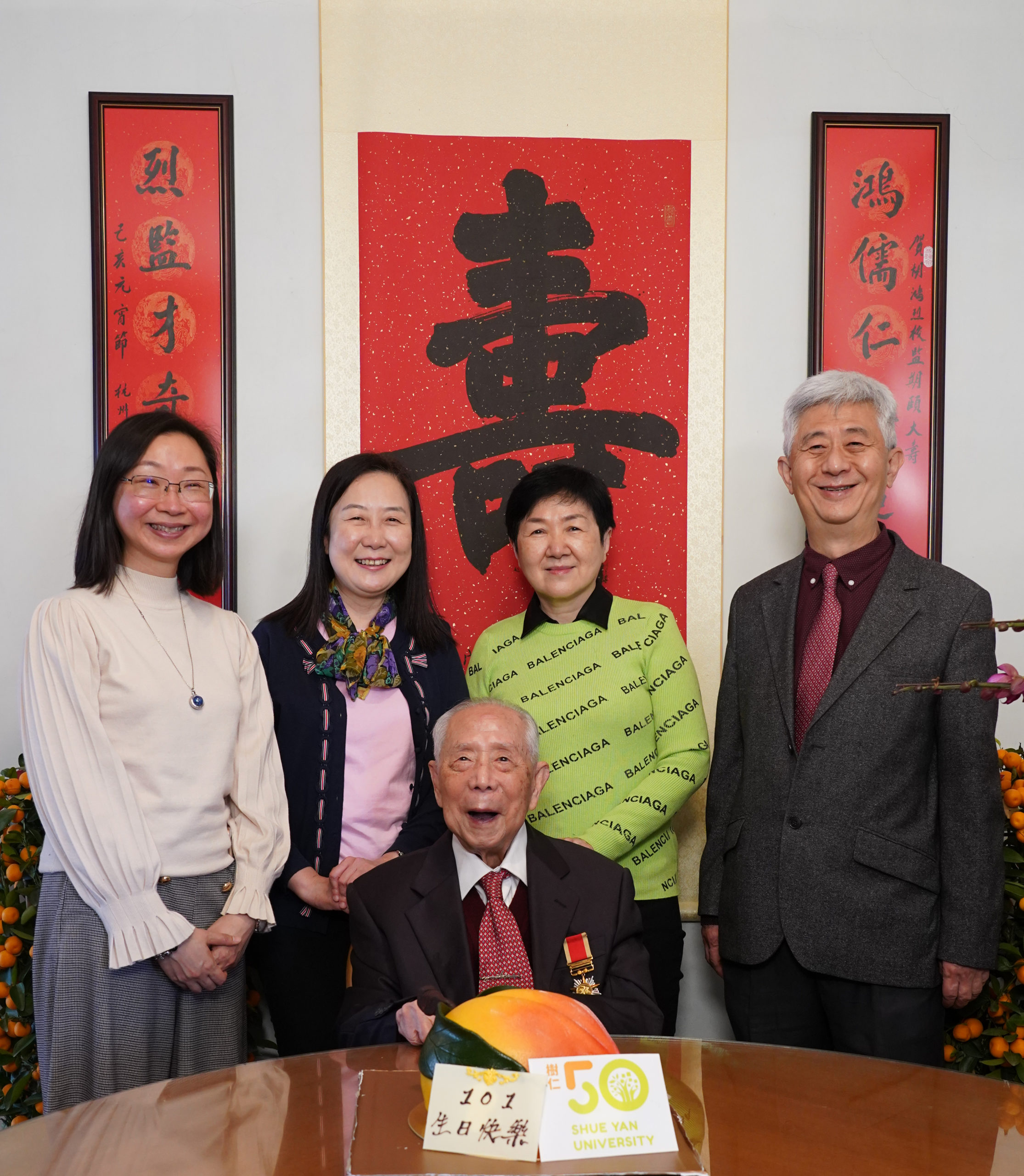 Theme of HKSYU 50th Anniversary
In the letter, Dr. HU Fai Chung also talked about the design of the 50th anniversary logo and its use of green and orange. The green denotes that Shue Yan is committed to training young people for Hong Kong and the Motherland, while the orange means Shue Yan has fulfilled her responsibility to train talents for the past 50 years. He hopes all Shue Yan people will enjoy and engage in the upcoming anniversary activities.
At the end of the letter, Dr. FC HU quoted President HU's saying: "Cultivating virtues of benevolence is the responsibility from generation to generation." In education practices, "we realize that cultivating virtues of benevolence is the result of an accumulation of efforts and the endeavours. It requires steadfastness, innovation, and continuous hard work. Let's remind and encourage one another."
A cozy birthday party
In the afternoon of Dr. Henry HU's birthday, Dr. FC HU, together with Professor Catherine SUN, Academic Vice President, Ms. Sophia YIP, Associate Vice President (Student Affairs), and Ms. Peggy CHU, Registrar (Quality Assurance), held a cozy birthday party for Dr. Henry HU, with a cake and a celebration card bearing the 50th anniversary logo. They, joined by staff of the university, alumni and Dr. Henry HU's friends on the television screen, sang the birthday song and offered their best wishes to Dr. Henry HU. (Birthday photo section)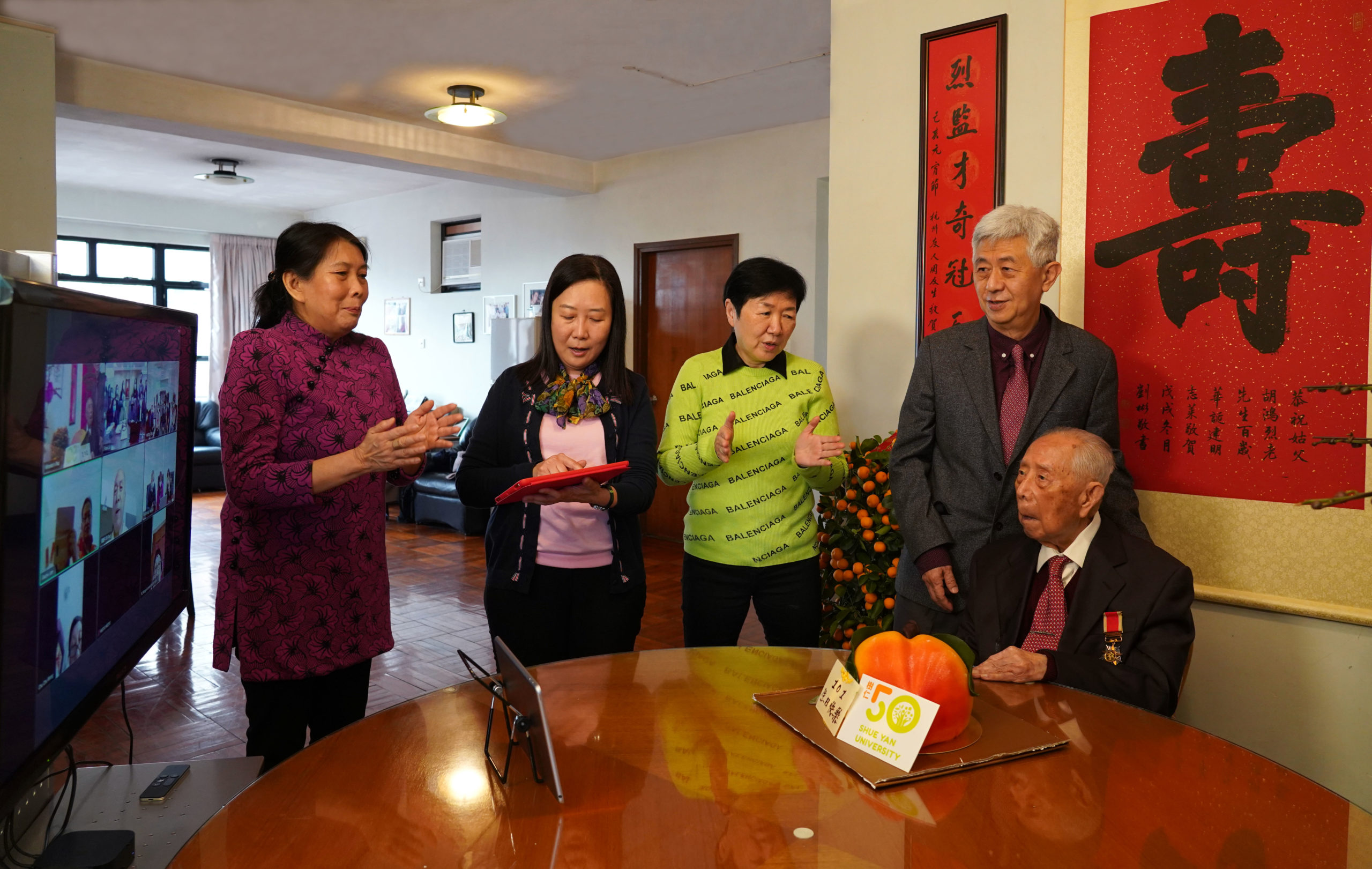 Source: February 2021 Issue