Winning and losing are inevitable in an athlete's life. To be a top athlete, not only must he or she be able to achieve excellent performance in competitions, but he or she must also be equipped with the ability to cope with all kinds of stresses and adversities. Having competed thrice in the world's largest sports events and won two bronze medals in two Olympic Games, Sarah LEE Wai-sze, a.k.a. "Cycling Goddess of Niuxia" (Cycling Goddess of Ngau Tau Kok Lower Estate), when interviewed by Shue Yan Newsletter, encouraged young people to bravely pursue their dreams and leave no regrets in their youthful age.
Sarah started her career as a full-time cyclist at the age of 17. Although she has experienced countless injuries, she has never given up. After rigorous training, she broke the Asian record and won the gold medal in the 500-meter time-trial cycling event at
the 2010 Asian Games. Then, at the London Olympics in 2012, she clinched a keirin bronze. In 2013, she won gold at the 500-meter time-trial in the UCI World Track Championships and became the first-ever Hong Kong female cyclist to wear a rainbow jersey. In 2014 and 2018, she won the gold medal in both keirin and sprint, making her the first Hong Kong athlete ever to clinch two gold medals at two successive Asian Games. Despite the outbreak of the COVID-19 pandemic that pushed the Olympic Games back, Sarah lived up to the expectation of all and clinched a bronze medal in women's sprint in the Tokyo Olympics in Japan. After that, she captured sprint gold and keirin silver in the National Games.
In recognition of Sarah's achievements in sports and her spirit of reaching out to others in line with the motto of "cultivating
virtues of benevolence; broadening horizon and knowledge" of Hong Kong Shue Yan University(HKSYU), she was awarded Doctor of Social Sciences honoris causa by the University. Sarah expressed her pleasure with the degree, saying, "Elite sports
are out of reach in many people's minds, but they are actually inseparable from social science. To help athletes achieve their
best, continuous research is necessary. It is a great honour to be recognised by HKSYU for the achievements of athletes."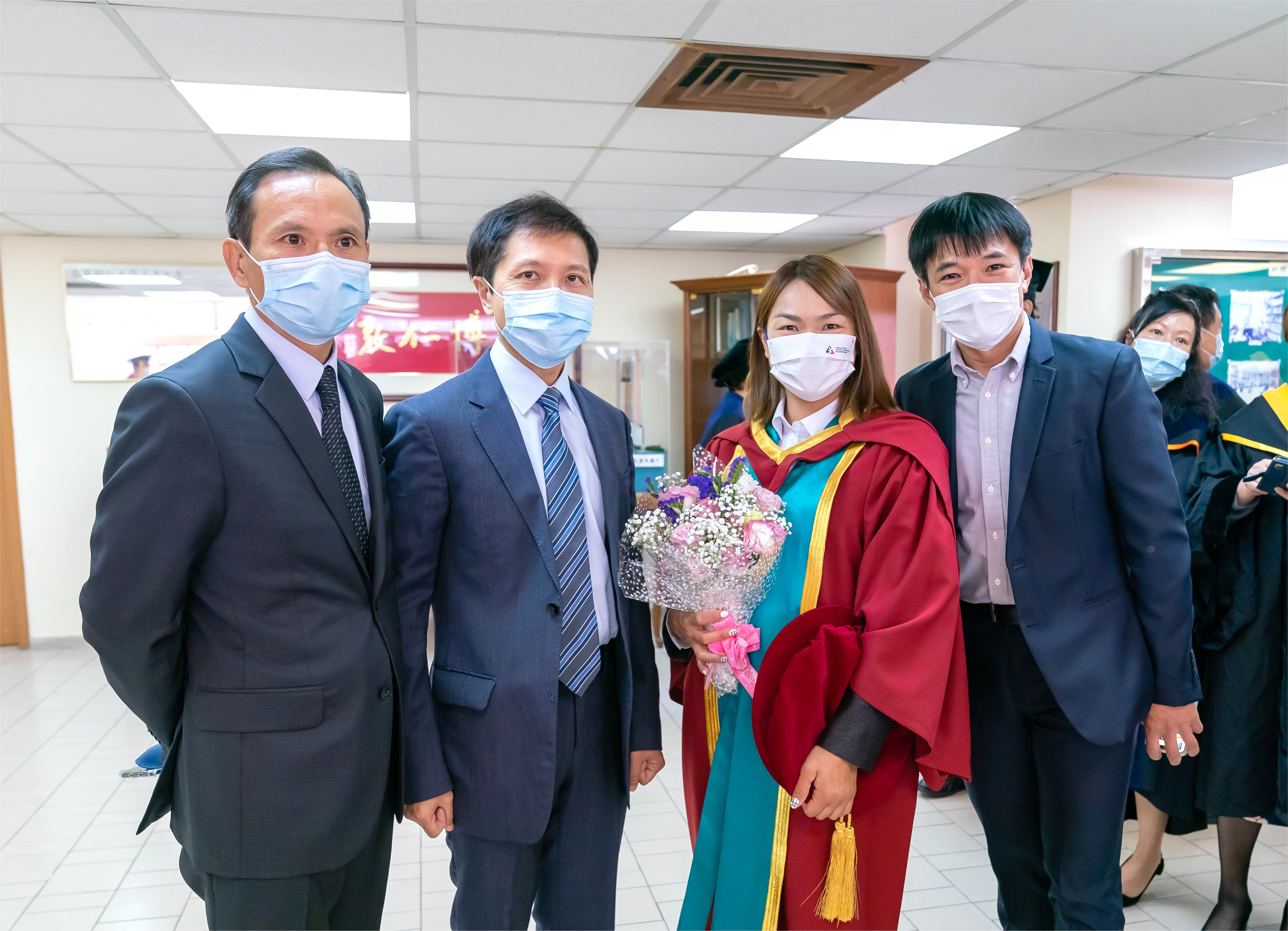 Sarah's inspiring story is a model for young people to learn to resist adversity. She firmly believes that adhering to the goal is
the duty of athletes. "I am not afraid of adversity. I would choose to face it and stick to it even when I know there is a bumpy road ahead. Nothing compares to the satisfaction of achieving a goal," said Sarah. She also encouraged young people to be determined in the pursuit of their dreams, "If you want to have no regrets when you look back, you must be brave. College students should dare to think, dare to dream, dare to think and dare to speak up. I remember a student once asked me, 'Why do I need to study hard?' I think everything has its own realm. You don't have to worry whether a certain thing is ordinary, and don't be limited by external conditions such as identity, age and environment. You can always contribute to society and affect the people around you as long as you do it well."
On the field, she repeatedly won glory for Hong Kong with her "strongest thighs". In addition to medals, Sarah never forgets to pursue her dreams. Since she completed the Bachelor of Health Education four years ago, she went on to study the Bachelor in
Creative and Professional Writing. Although she suspended school for two years in preparation for the Tokyo Olympics, she has returned to school to continue her studies, hoping to fulfil her writer's dream. "Learning is boundless and the pursuit of knowledge is an endless road. As long as you have the will, you can learn at any time. Whether you are an athlete or a student, I'm deeply convinced that your efforts will always be recognised."
Aside from being an athlete, Sarah said she was just an ordinary person. "My fellow schoolmates may think that I am different. In fact, like most students, I would also burn the midnight oil studying or doing my homework. I would feel powerless and sometimes lost and can't find my way. However, as an athlete, I know how to deal with pressure. If necessary, I would talk to and seek help from family and friends and find the confidence to stick to what I am doing. For example, the recent research and investigation, done with my classmates helped me realise deep down the importance of cooperation. With collective wisdom, we would be able to find solutions and overcome obstacles eventually."
She added that medals are the ultimate goal of most athletes, but she pays more attention to the relationship with the staff around her. "To be an athlete is a profession that concerns very much about one's self. The moment of glory seen in other people's eyes has actually been cultivated for over a decade. No one can ascend to the sky in a single bound. In fact, when I stood on the podium with good results, all I could think of were pictures of sharing weal and woe with my staff. I have also constantly reflected on how to cooperate happily with the people around me, move towards a goal and achieve higher achievements together. That satisfaction is actually greater than winning medals."
In recent years, Sarah has been serving as Assistant Cycling Coach at the Hong Kong Sports Institute to pass on the knowledge and experience accumulated in training and competitions to junior cyclists. She said she had not yet decided where to go in the future. "Looking back on returning to school in 2017, I really wanted to retire. Many people draw a clear boundary of retirement. In fact, it does not matter whether one retires or not. In the past, some athletes returned to the sports world because of their enthusiasm for sports. At this moment, I still have enthusiasm for sports and life. I won't rush to tell you that I want to stop."
When asked about the significance of cycling to her, Sarah said that cycling is a good partner that brings her happiness. "I don't think life can be plain sailing. A colourful journey can only be achieved with ups and downs. No matter what situation I face, as long as I ride on my bike, I feel calm and comfortable. It is a feeling that I can never feel from anyone or anything that I've come across in life."
On the road of life, everyone has his or her own goals. No matter if one chooses a wide corridor or a rugged road, the most important thing is to know what one wants to pursue in life. Sarah encourages young people to think about how they can live their best self, shoulder the responsibilities of Hong Kong people and inherit the spirit of Hong Kong.
Source: Nov and Dec 2021 Combined Issue