Dr. LEE Ka Man Department of Journalism & Communication
What are the major reforms of the curriculum of the Bachelor of Arts (Hons) in Journalism and Mass Communication programme?
When I enrolled in Shue Yan in 1993, the Department of Journalism and Communication was named "Department of Journalism". Although the curriculum was designed to train students to become journalists or public relations and advertising professionals, the main focus was on training future reporters. Students needed to choose either the "News Stream" or "Public Relations & Advertising Stream" when progressing to year three. Students who entered the "News Stream" usually had a total average GPA more than 2.5. Hence, it created an impression that students who have better grades will enter this stream. Now, no such streams exist anymore. Students can freely select subjects in fields of journalism, visual production, public relations and advertising. Starting from last year, the department has uploaded teachers' profiles to the webpage of the department, and students are able to identify who teaches the subjects when choosing their electives. Thus, transparency increased.
What has remained unchanged over the past 50 years?
The summer internship for year three students arranged by the department has remained unchanged and this is not something that other journalism departments can do. We can arrange internships for students in television stations, radio stations, newspapers, public relations companies, and even film production companies. The journalism department of Shue Yan has already established a reputation in the media industry in the early days. Internships are very important for students to practice what they have learned and to assess their suitability for working in the news and communications industry. This summer, for the first time, students went to the film company, Milkyway Image (Hong Kong) Ltd. and Hong Kong Productivity Council for internships. We will try our best to expand into more areas in order to provide students with more internship opportunities in the future.
What is the department's developmental plan for the curriculum and internal internship scheme?
In the past, no matter whether you wanted to be a reporter or not, you must do news reporting and writing. In this academic year, we'll start to offer other internal internship opportunities to students, for example, organizing events, taking part in event promotion and advertising, and participating in the writing and promotion of the university's newsletter. Some students may not know what they like until they are in year three or even year four, so we provide more internship opportunities for students and facilitate them to identify and explore their career interests.
How can the department catch up with the trends of the era and make the department's two undergraduate programmes involve more technology and digital content?
The Bachelor of Arts (Hons) in Media Design and Immersive Technology has been launched in this academic year. And the government has recently notified us that the Innovation and Technology Fund agreed to provide HKD 1.18 million funding to a project that uses artificial intelligence (AI) to promote knowledge transfer. We are going to collaborate with more than 20 secondary and primary schools in September. By taking videos about the movement of the grandson of Master Ip Man, and using AI technology, students can learn and practice Ving Tsun precisely without masters. This project will also benefit the preservation of intangible cultural heritage.
What do you expect the students to receive in these four years?
I transferred to a boys' school when I was form six. Teachers there gave students a high degree of freedom and always appreciated them, acknowledging the strengths in every student. That year changed my entire life. Every young person has her/ his strengths that have yet to be discovered. Some adults or parents believe young people do not pay their utmost effort most of the time. However, it is the opposite for me. Young people worry a lot about the next step because they set the objectives higher than they can achieve. I hope students can explore more, enjoy the four-year study in Shue Yan like having a working holiday, and find their future path. So, the department offers various electives for students, encouraging them to get in touch with different aspects of knowledge. In this slash generation, students have to obtain a full range of knowledge. In the media and communication industry, a good personal network, and a thorough understanding of the industry and the society are as important as professionalism, because these two qualities can help them communicating with others and building up working relationships more effectively.
In view of the social turmoil in recent years, many students are putting off entering the media industry. What advice will you give them?
Everyone should have a sense of mission in her/his position. Journalists' news sources come from their friends in different industries and sectors. Though some of our graduates will not enter the media industry, they can still become the sources of their media friends, and thereby contribute to the monitoring of the functioning of the society.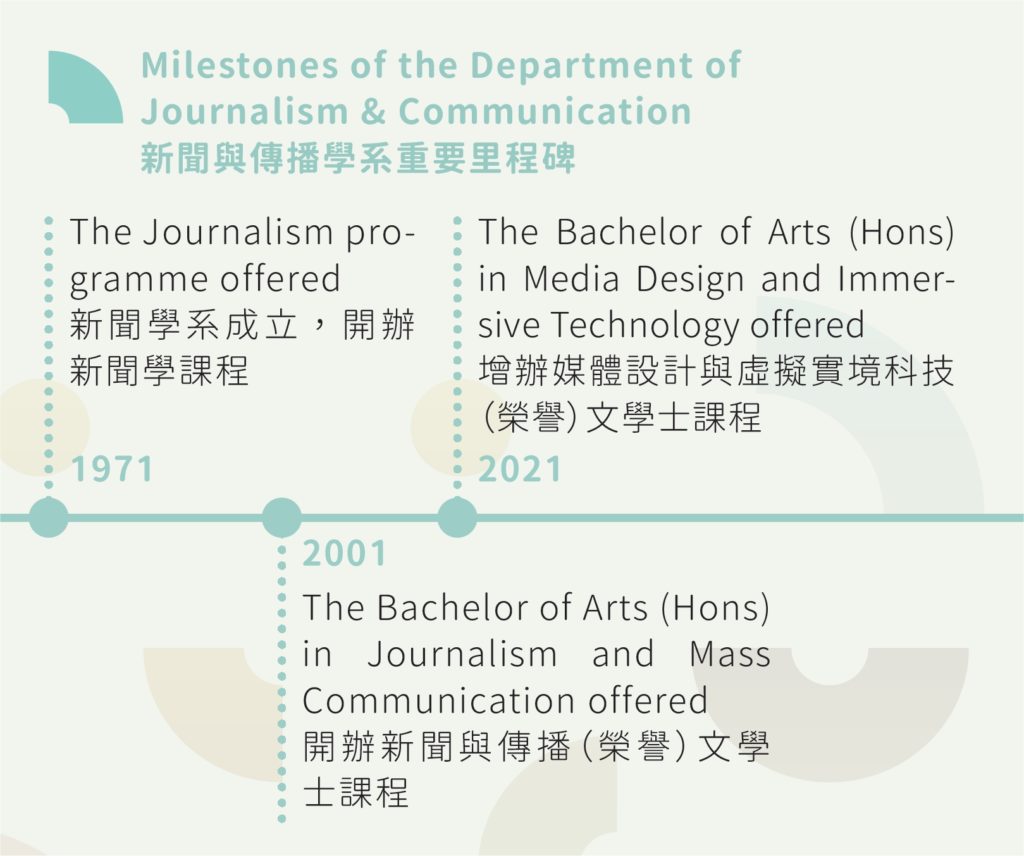 Source:50th Anniversary Special Issue