Every top industrialist has his success formula. The founder of Hopewell Holdings, Dr. Gordon WU Ying-sheung, seized opportunities to participate in the construction of infrastructure in the mainland and build a number of influential projects that are still talked about. In an exclusive interview with Shue Yan Newsletter, he advised that young people should always acquire new knowledge to enrich themselves, distinguish right from wrong, master biliteracy and trilingualism, and seize opportunities in life.
Dr. WU was one of the first Hong Kong real estate developers to invest in the mainland. In addition to cooperating in the construction of Guangzhou China Hotel and building several power stations to solve the power shortage problem in Guangdong,
he also built roads and highways such as the Guangzhou-Shenzhen Superhighway and the Boca Tigris Bridge to improve traffic infrastructure, which has had a great influence on development in the mainland.
As a successful industrialist, Dr. WU is most proud of his accurate judgment and choosing to invest in infrastructure development in the mainland. "I was happy when I heard DENG Xiaoping's announcement of the implementation of reform and opening up of China in 1979. The reform and opening up of China enabled some people to get rich first and found the right direction, then released the energies of a billion working people. It had a great impact on China's economy." He added that both software and hardware are necessary to develop the economy. The hardware should start with infrastructure, power plants and network communication, whilst education is an indispensable piece of critical software.
Dr. WU received traditional Chinese education and studied civil engineering at Princeton University in the United States. He is
a true embodiment of "Chinese learning as substance, western learning for application." "Seeing that the Interstate Highway
network in the United States had brought benefits to industrial and commercial development, I thought that if I could develop
infrastructure and build highways for China's Pearl River Delta (i.e., Greater Bay Area now), I would be able to enhance the flow
of people and goods in the area, and promote national economic development." He added that China's efforts in infrastructure
construction over the years have laid the foundation for today's prosperity. "In addition to controlling floods, the Three Gorges of the Yangtze River can generate electricity. A perfect high-speed rail network has also been built. At present, China's technology for building bridges is second to none in the world. I feel very satisfied that I have the honour to contribute to the development of my motherland."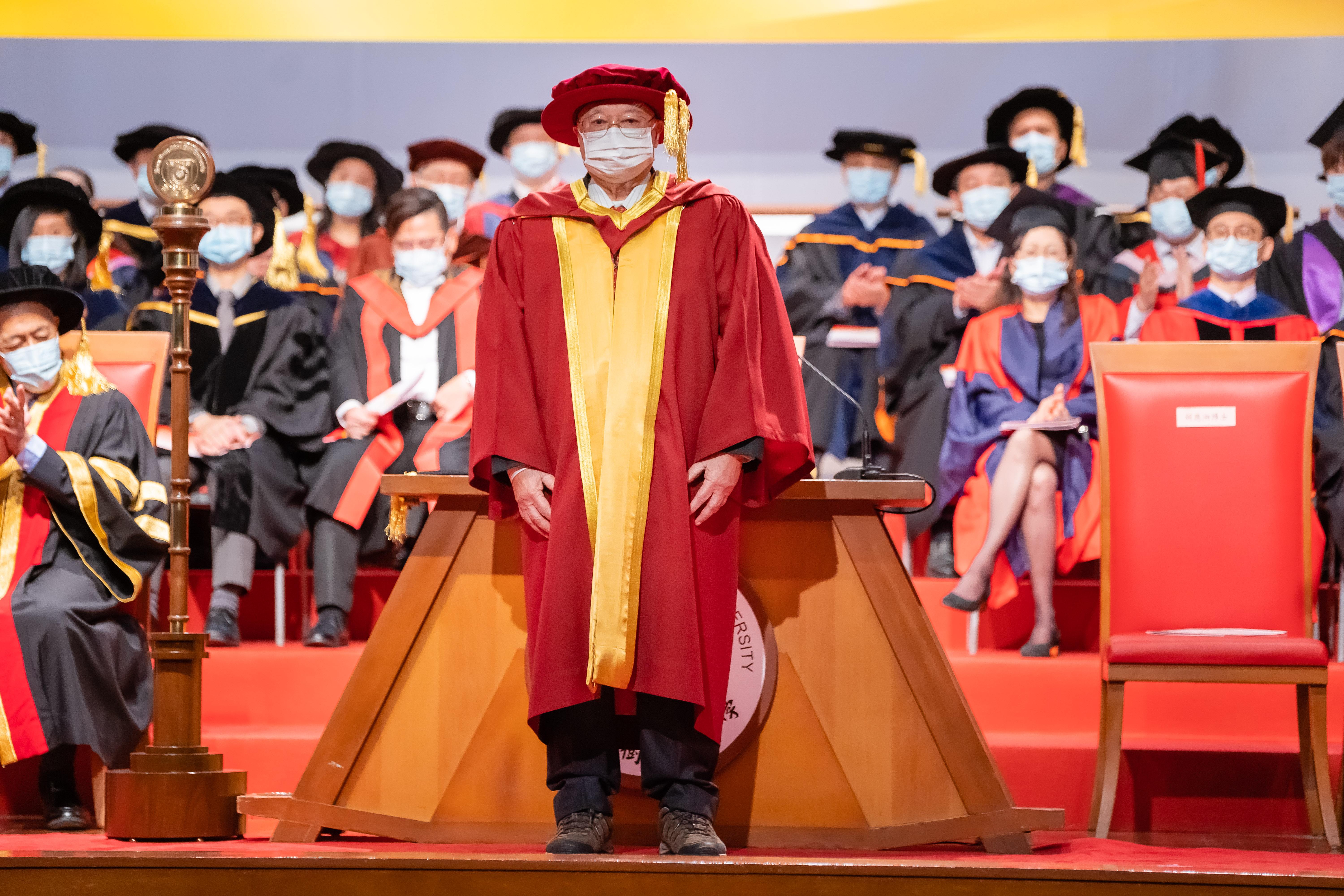 Hopewell Holdings has participated in the development of a number of housing projects in Hong Kong in the past, such as
Telford Gardens in Kowloon Bay, Healthy Gardens in North Point and around Broadwood Road in Happy Valley. These projects
were widely acclamated as value for money. Dr. WU has been very forward-looking in solving the housing problem in Hong Kong. As early as 1997, he had already proposed to Tung Chee Hwa, Hong Kong's first Chief Executive, a reclamation plan similar to "Lantau Tomorrow". "Hong Kong needs to solve the housing problem most. Despite its high national income, the
rent accounts for too much of the people's income. The people cannot even afford their basic housing needs. I supported the '85,000' housing policy. At that time, reclamation was also proposed to solve the problem of shortage of land supply. In fact, Hong Kong's development has always relied on reclamation. Developers are not afraid of the government's construction of more subsidised housing. Only by allowing the public to reduce the cost of living and accumulate wealth which enables them to switch to the private housing market. I certainly think the government is not decisive enough to deal with the land problem. There must be voices of support and opposition in everything. We learn from western democracy to conduct a consultation, but should not retreat as soon as we hear voices of opposition. There would not be a solution satisfactory to everyone. We should take the interests of the broad masses as the basis for making decisions, rather than retreating from a sound policy when a small number of people oppose it."
In the face of high property prices in recent years, Dr. WU spoke frankly that developers should not be the only one to be blamed, "Real estate developers are just bakers. They buy flour (land) to make bread (construct properties). Land is expensive and property prices will be relatively expensive. "It is difficult for a skilful housewife to cook without rice." quoting a famous Chinese proverb. He attached importance to the concept of family and hoped that Hong Kong society could truly "provide for the elderly and support the young". "Many Hong Kong people have contributed the first half of their lives to serve Hong Kong for decades. When they are old, their ability to work lessoned, but they cannot live with their families and be taken care of because of the overcrowded living environment. The problem of providing for the elderly could not be solved simply by building homes for the elderly. This again goes back to whether officials recognise the urgency of the problem. Therefore, I highly praise Mencius's 'offering every family a house of five acres and planting mulberry trees around it and 'the people are precious and the
monarch less so.' In fact, Hong Kong people are so simple: they just want to have food to eat, clothes to wear, and to live a peaceful life."
Dr. WU, who has reached the age of 86, said that he has entered semi-retirement with the mentality of "as long as you remain a monk, you ring the bell every day," quoting another Chinese proverb. Although he is not interested in politics, he often speaks it loud out, "I am also a member of the public. We should solve problems with wisdom. As an engineer, I am used to making decisions on the basis of facts and science. Of course, the most important thing is to have conviction and stand firm. Therefore, I have always adhered to responsibility to society and self-discipline." Looking back on the low tide of life, he said that it had to be his investment in infrastructure in Southeast Asia back in the 1990s. With the Asian financial crisis in 1997, the contract of an overpass and railway project in Bangkok, Thailand to which he was a party, was cancelled by the local government on the ground that the railway could not be completed on schedule, resulting in a loss of billions of dollars. Dr. WU admitted that this was the biggest setback he had ever encountered, adding, "One makes mistakes in life. The most important thing is to learn from the lesson, "Don't make the same mistake twice, and don't blame fate or on other people."
As the former chairman of the Council of Hong Kong Polytechnic University and City University of Hong Kong, Dr. WU enthusiastically supports education and cultivates talents for the society. When it comes to educating the next generation, he laughed and said he did not know how to be patient and guide young people step by step. Even his son had to depend on himself to grow and learn. However, he agrees with the school running philosophy of Dr. Henry HU Hung-lick and his wife Dr. CHUNG Chi-yung, the founders of Hong Kong Shue Yan University. He also appreciates the university's motto of "cultivating virtues of benevolence; broadening horizons and knowledge.", and he believes that a person can only become one with both talent and morality and contribute to the society if he or she cultivates character while enriching his or her knowledge. "Local universities are not inferior to overseas universities. The Hong Kong government is willing to invest resources in education, but the
most important element in running education is people. We need high caliber teachers. In addition to cultivating good conduct, students also need to equip themselves and lay a good foundation in biliteracy and trilingualism. Language ability should not hinder personal development."
Source: Nov and Dec 2021 Combined Issue