The International Unit organised an orientation programme for 18 inbound exchange students on 17 September 2021 to help them settle in, meet other exchange students and exchange buddies, and get familiar with university facilities.
They came from seven places, namely, Belgium, Denmark, France, Germany, Spain, Switzerland and Mainland China.
The orientation not only attracted exchange students and their buddies, but also senior management of the university and heads of the relevant administrative units, including Dr. HU Fai-chung, Deputy President, Professor Catherine SUN Tien-lun, Academic Vice President, Professor CHEUNG Siu-keung, Associate Vice President (University Administration), Mr. Stephen TONG, Head of International Unit, and Ms. Kanis CHU, Head of Hall Management Unit.
In her welcome speech, Professor SUN encouraged the exchange students to open up, and to take the opportunity of Shue Yan celebrating its 50th anniversary to learn the real meaning the university's motto: cultivating virtues of benevolence; broadening horizon and knowledge.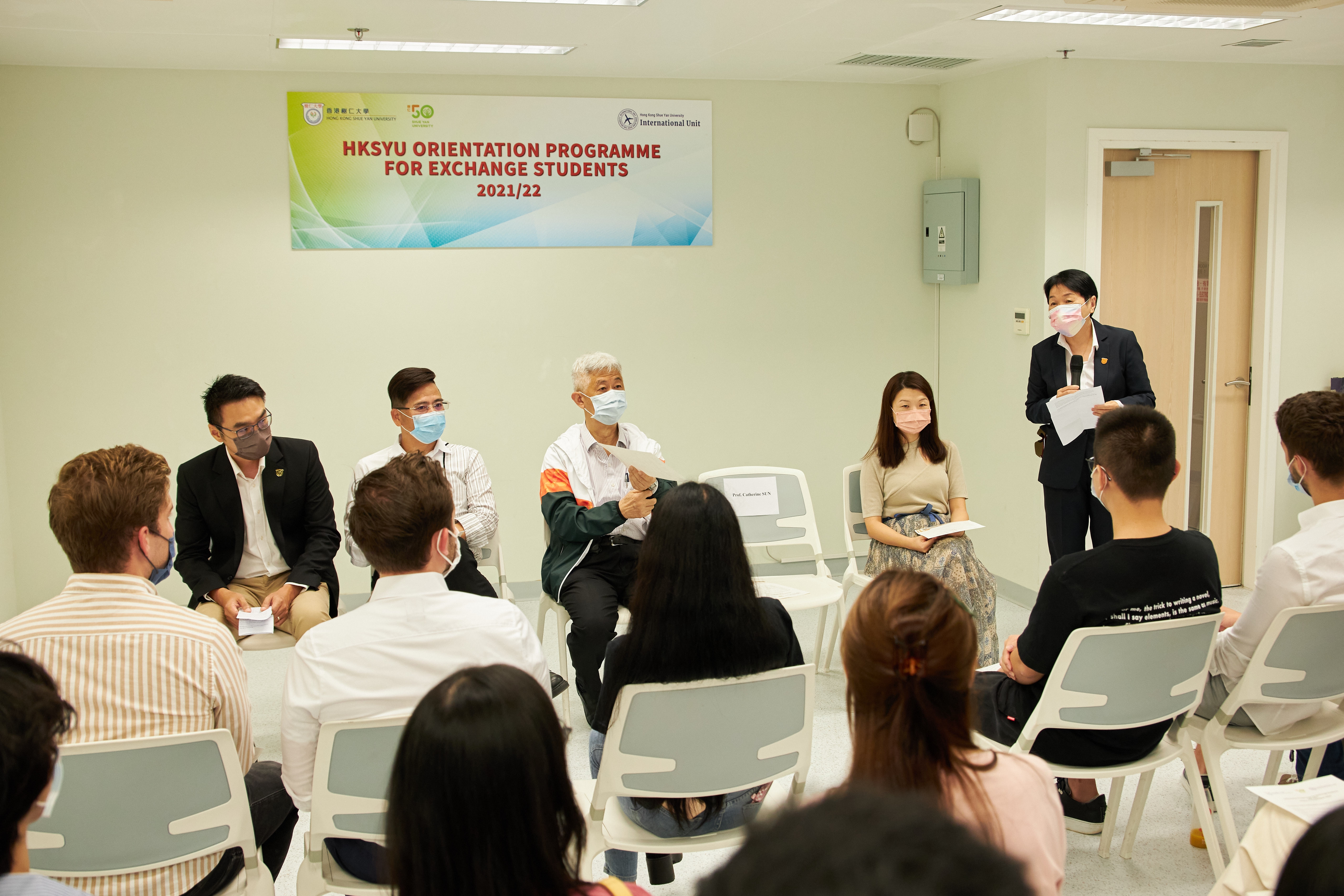 Mr. Stephen TONG, in his welcoming speech, suggested that the exchange students should use their free time to explore this city and the cultures of Hong Kong. He also urged the exchange buddies to give full support to help the exchange students settle in as soon as possible.Then, inbound exchange student and exchange buddy introduced themselves one by one. After the orientation ceremony, they were led by Mr. TONG to visit the campus facilities.
Exchange student Michelle talks about learning Chinese cooking and her impressions of Shue Yan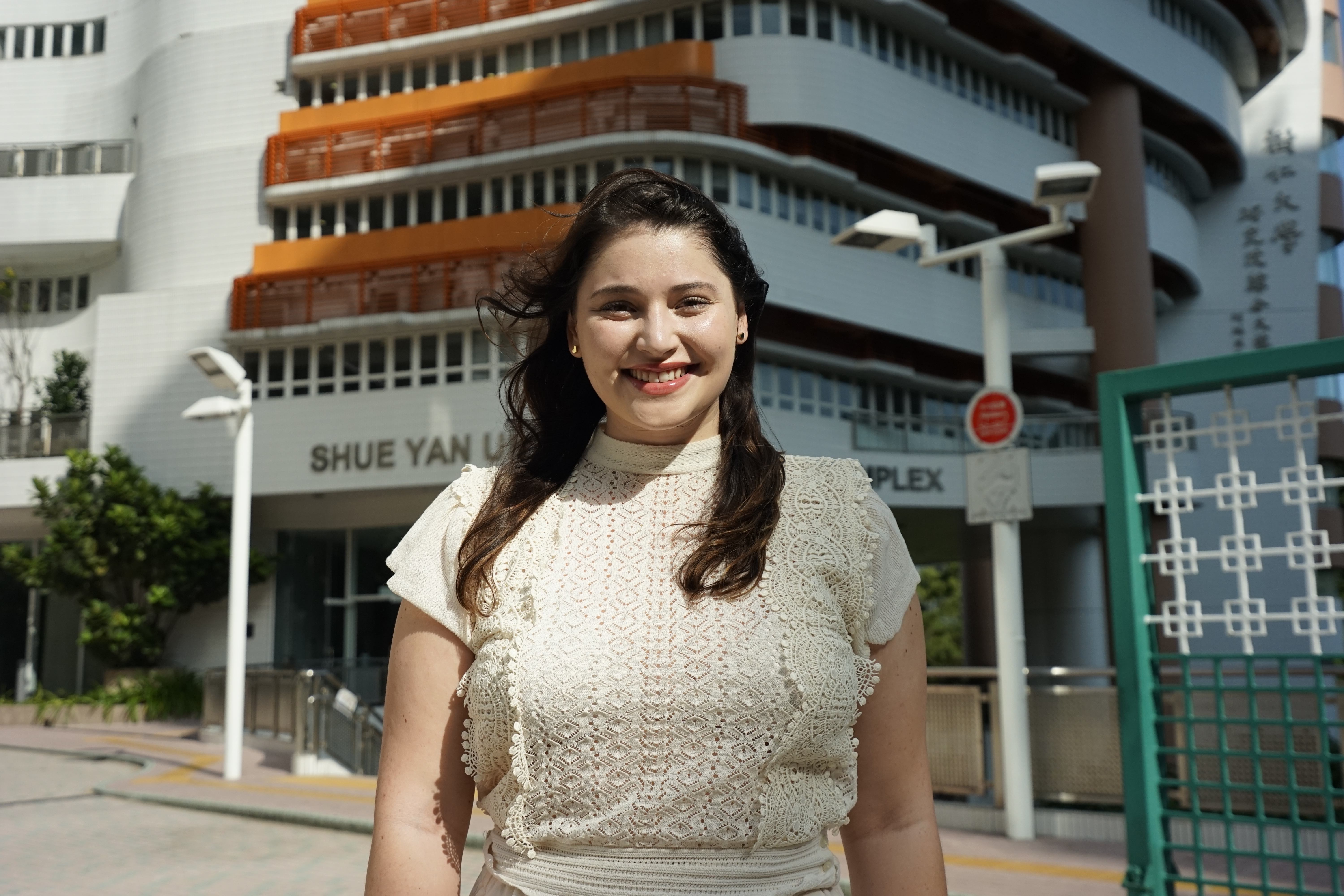 Michelle MEHN comes from the SRH University Heidelberg in the state of Baden-Württemberg, south west of Germany, where she studies business administration. She told Shue Yan Newsletter that she grew up in the state of Rheinland-Pfalz, adjacent to
Baden-Württemberg. Both states are rich of forest resources.
Michelle has never been to Asia, so she decided to take this exchange opportunity to study and live in a city in Asia.
Michelle likes traditional food and cooking, so she hired a private tutor to teach her cooking Chinese dishes. "I found the tutor online and paid her HK$750 for an eight-hour lesson. I went to the market and shop for ingredients with her. Then she took
me back to her home and taught me how to cook." Michelle said.
When asked about the main differences between studying in Germany and Shue Yan, she said there is usually just one exam at the end of the course in Germany with no assignments, yet in Shue Yan, there are many assignments.
Buddy Natalie's interaction with exchange student from Spain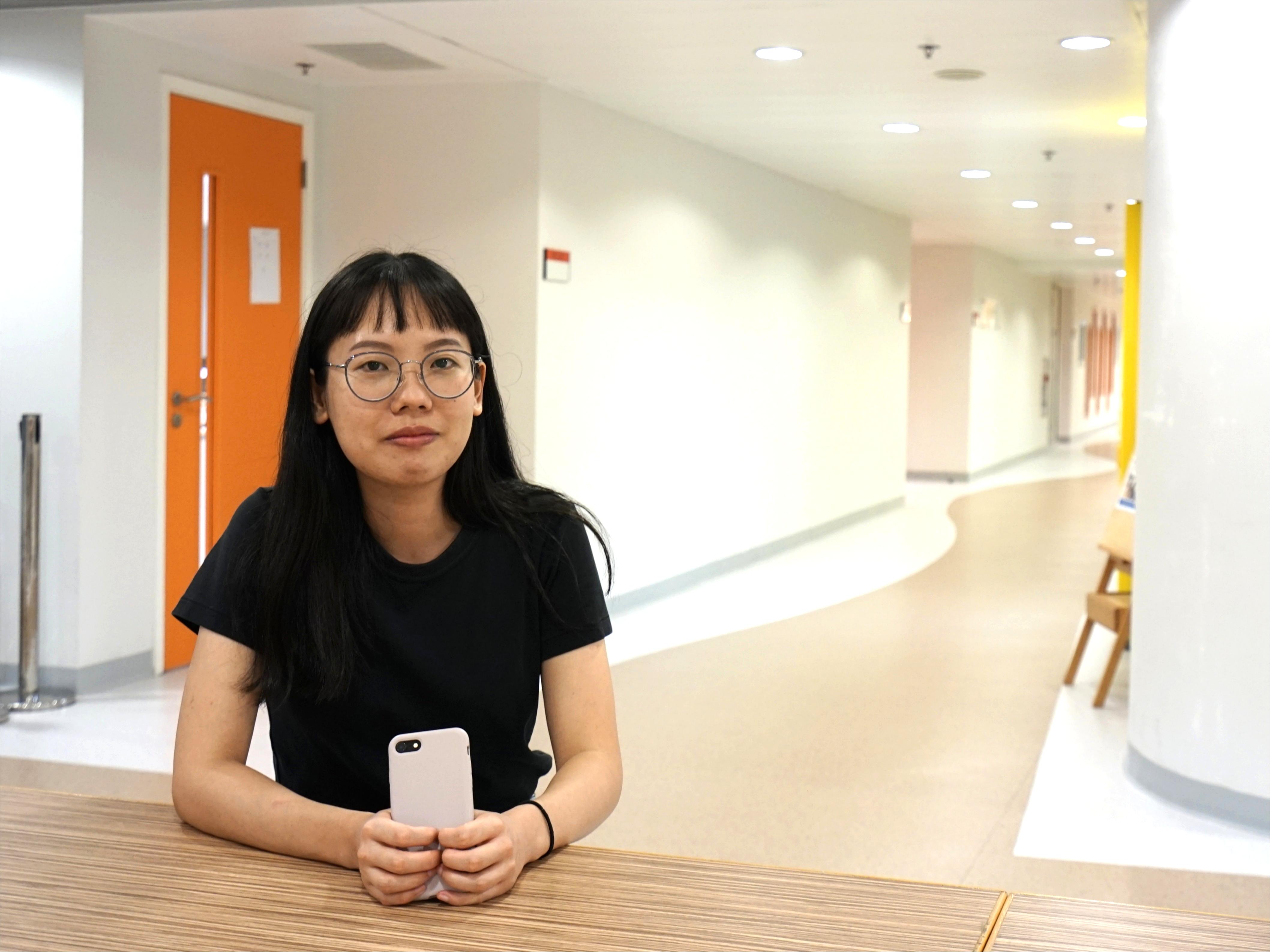 Natalie CHONG, a Year 4 Journalism and Mass Communication student, is one of the Exchange Buddies in this semester. She told Shue Yan Newsletter that she went to exchange in January 2020 at Universidad Rey Juan Carlos in Spain, but due to the COVID-19 outbreak, the campus was closed and Zoom teaching was also suspended, so she came back to Hong Kong in mid-March. She applied to be an exchange buddy so that she can "continue" her study abroad in an indirect way.
A student from the same university in Spain was assigned to Natalie by the International Unit. Her name is Charlene HEITZ BANU, who also studies journalism and reporting.
Natalie started her duty as an exchange buddy at the end of August. She went to the designated quarantine hotel to bring Charlene to the campus. She brought Charlene to meals in Tsim Sha Tsui after lectures, and went to visit attractions such as Central and Cheung Chau at the weekends. "The International Unit told us not to bring the exchange students to major attractions like Temple Street Night Market in Mong Kok, and the Big Buddha in Lantau Island. They should explore those major attractions freely by themselves."
Natalie said her interactions with Charlene in September was "quite happy". During her study abroad in Spain last year, her buddy and her lived on different campus, thus it was difficult to get together. Natalie recalled that Charlene's observation during the sightseeing has left her in deep reflection. Charlene said she seldom uses Google map in Madrid except to locate a specific shop. "I felt a bit ashamed at that moment because I always use Google map with my phone. This reflects that I am not familiar with the place I grew up and live in, and I am not energetic enough to explore new places and things."
According to the International Unit, since the launch of Study Abroad Scheme in 2015/2016 academic year, Hong Kong Shue Yan University (HKSYU) has signed agreements with 75 universities outside of Hong Kong, covering more than 30 countries and regions; and HKSYU has accepted more than 110 inbound exchange students from partner universities.
Source: Nov and Dec 2021 Combined Issue