Hong Kong Shue Yan University Jockey Club Multimedia Production Centre was opened in September 2017. It has professional visual equipment and an experienced production team, which can provide professional live streaming production and training for digital media and audio-visual production for Shue Yan students, especially those who are studying in the Department of Journalism and Mass Communication.
The Jockey Club Multimedia Production Centre is located at LG2 in the Research Complex. It is composed of one Forum Theatre and five audio and video production studios, including Master Editing Suite, two AV Shooting Studio, Audio Mixing Suite and Multimedia workshop. Each of them adopts full digital equipment that connects with a fibre optic system that is comparable to the ones in commercial TV stations. Editing, post-production and live streaming can be conducted at the same time.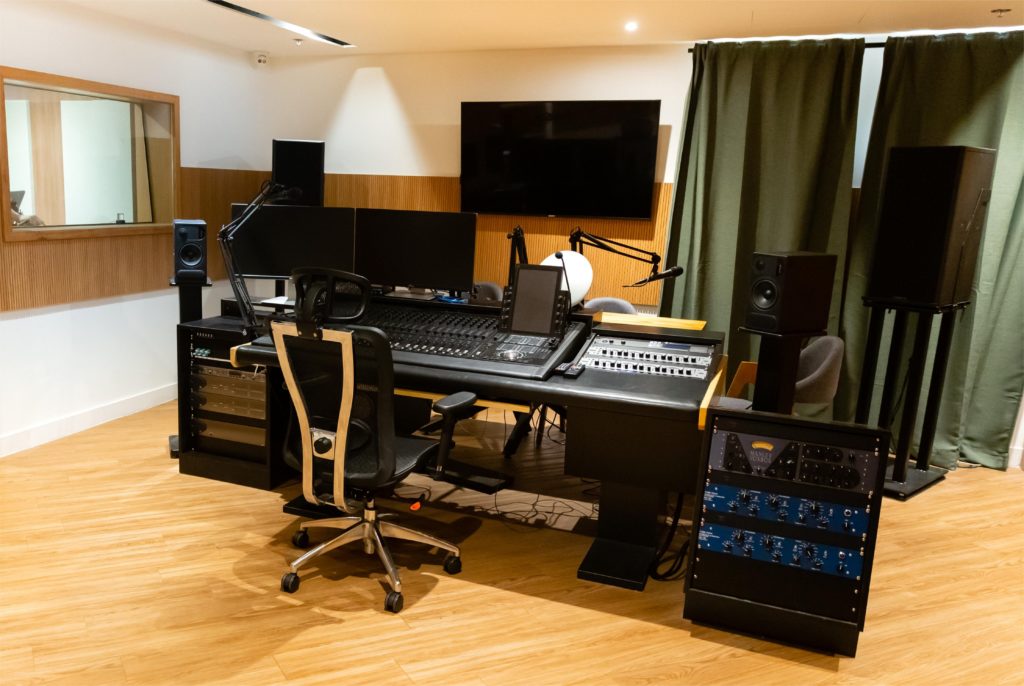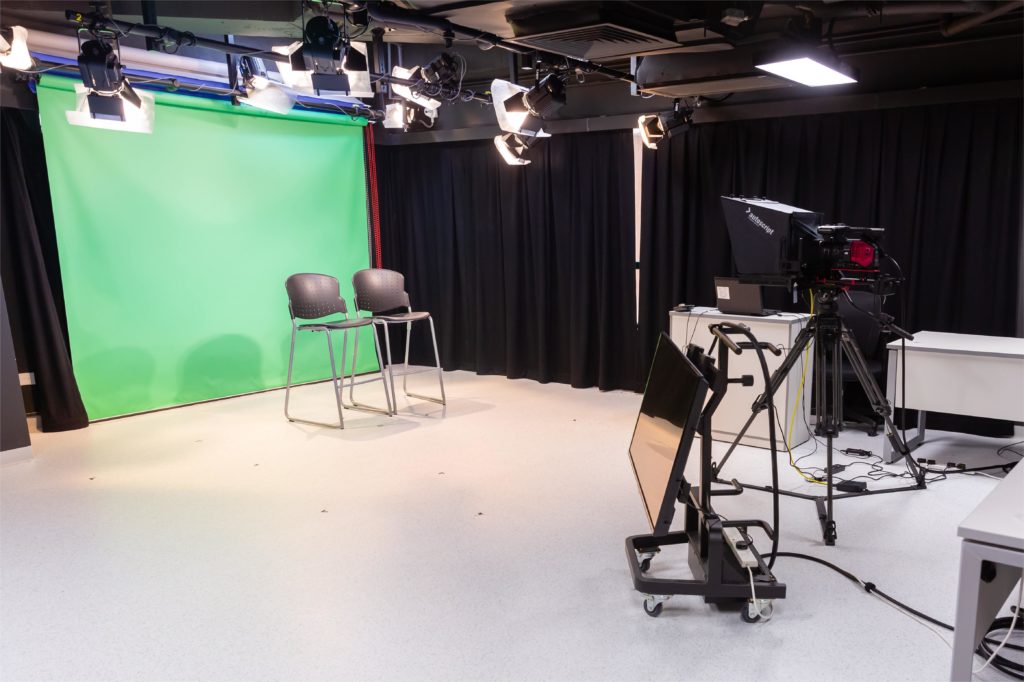 The Forum Theatre is equipped with 202 retractable seats, broadcast-grade equipment system (including two pedestals, two remote PTZ cameras) and theatre-grade sound equipment. They can be used for events, such as movie screening, concerts, black box theatre, academic conferences, talks and more.
Mr. SO Kai Chi, Associate Head of the Department of Journalism and Mass Communication, who participated in managing the Jockey Club Multimedia Production Centre, said to Shue Yan Newsletter, since the start of the 2019/2020 academic year, the department has been gradually concentrating part of the audio-visual production teaching in the centre, including Digital Photojournalism in year 1, Audio-Visual Production in year 2, Intermediate Audio-Visual Production, as well as Digital News and Information Production in year 3.
"This arrangement has two advantages. Firstly, students would have more chances to interact with different set up and equipment for all our visual-audio hardware is concentrated in LG2, Research Complex. Secondly, students gather to use different equipment which arouse discussions to help boost imagination and creativity," said Mr. SO.
Due to COVID-19, students were not able to come back to campus for more than an academic year. Mr. SO hopes students can have lectures on campus for the upcoming academic year, so as to enrich their effectiveness of learning, and promote audio and video production as a core of training for the department.
Mr. SO has indicated the improvement of the production centre's team in cooperation and production ability since their establishment. They had teamed with the school to organise various events such as Virtual Sports Day in March this year and Wisdom in Hold, Elegance in Mold: Hong Kong Inter-Primary School Chinese Proficiency Competition that was co-organised with other organisations. The program that the team has produced for the event has already been broadcast at ViuTV, showing their ability has reached the level of TV station production. Students must be able to gain a lot if they take part in the production with the centre.
Towards the end of last year, Shue Yan received a HK$5 million donation from prestigious journalist Mr. Raymond R. WONG and set up the Dorothy Shen Wong Journalism Education Fund. Part of the donation was used for purchasing shooting equipment, including 20 camcorders and 80 cameras, providing more resources for learning shooting.
"We really hope our facilities can be inspiring. We lend cameras to students, so that they can shoot immediately, to enjoy, to learn actively about shooting and video production, no matter if they are going to have their own camera," said Mr. SO.
Mr. SO also said, to provide effective visual-audio production training, hardware is not the focus, but the reliance on teachers and the team in the production centre, to make the best use out of the equipment. Paying attention to teaching and collaborating with other departments and organisations, allow students to join more immersive and diverse production activities.
Source:50th Anniversary Special Issue