Dr. Monica LAW, assumed the post of Head, Department of Business Administration, on September 1, 2020. In an interview with Shue Yan Newsletter in September, Dr. LAW talk about her views on the future development of the department and the BBA programmes, and the relationships with alumni and the business sector.
Q: Shue Yan Newsletter reporter
LAW: Dr. Monica LAW
Q: Do you have any preliminary views or plans on how the Department of Business Administration would develop in the future?
LAW: We have always been optimising and adjusting the structure as well as the content of our courses in coping with the ever-changing demands from the industry. At present, the industry relies heavily on e-commerce and, as a result, we have made available a number of new courses including e-Business Management, e-CRM, Blockchain for Business, Internet of Things, Supply Chain Finance and Principles of Corporate Risk Management in the 2019/2020 academic year. As for the current academic year, we have continued to expand our portfolio of courses to include Digital Entrepreneurship, Digital Game Marketing, Data Analytics for Marketing, and Auditing & Professional Practice. There are more than 50 courses that are available to students at present and we plan to increase the number in the years to come.
The BBA (Hons) in Human Resources Management – Applied Psychology, which is a pioneering interdisciplinary programme, has just been launched this academic year. Currently, the Department of Business Administration offers five different programmes, including four undergraduate programmes and one master's programme.
The application of technology has become one of the core elements of business administration programmes. We hope that students will be afforded with more learning opportunities to apply new technologies following the opening of the university's Big Data Laboratory and Virtual Reality Laboratory etc. The university plans to launch two new programmes that are dedicated to digital media and Big Data technology within two years from now. We will discuss with the relevant departments in facilitation of providing a portfolio of compatible elective courses to students. Should the need arise of course, we would not hesitate to revise our existing programmes or reconfigure the concentrations.
Q: I am aware that there are five concentrations available in the BBA (Hons) programme, can I ask if there are plans for restructuring?
LAW: The five concentrations in the BBA programme, namely, Financial Services & Planning, Marketing, Human Resource Management, Corporate Governance and i-Entrepreneurship, prepare students for future challenges by equipping them with in-depth and professional knowledge. The business environment nowadays has seen a series of drastic changes, for example, the shift from stores to online commerce, which involves knowledge and skills in a number of areas. In preparation for this, we are actively considering the inclusion of a new concentration: e-Commerce or e-Business. We will consult colleagues in the Department, as well as external advisers in deciding which four elective courses are to be included in the new concentration.
Q: How would you strengthen the connection between the Department of Business Administration and the industry in order to enhance the available of internships and collaborations?
LAW: During the 2021/2022 academic year, students in our Digital Marketing programme as well as our Corporate Governance and Risk Management programme will be required to participate in the capstone project, which encompasses both project report writing and internship. We are currently collaborating with a number of different corporates, and we continue our search for more as we seek to create work experience opportunities. What's more, we will be working closely with the Industrial Attachment Office as to identify new internship opportunities.
Regarding collaboration with the business sector, in past years, our Enterprise and Social Development Research Centre has completed research projects on consumer behavior, new product development, corporate social responsibility and etc. In the future, we hope that our three professional programmes will have research projects with the industry.
We also aim to strengthen our relationship with various professional bodies in the coming year.
Q: Besides the current Mentorship programme, are there any plans to strengthen the relationship with alumni?
LAW: The Department's alumni Facebook page –
Our SYU BBA Linkage – has more than 500 members, we expect more alumni will join. Moreover, our colleagues has a good relationship with graduates. In April 2019, about 60 graduates participated in our gathering activity. When the COVID-19 pandemic is over, we will organize activities for both students and alumni.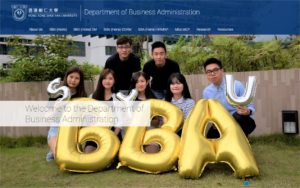 In the past years, we have collaborated with Hong Kong Young Chief Officers' Association to arrange over 40 students each year to be the mentees of senior managers of different companies. Students not only can learn how business operate in the real world from the mentors, but also have insight on how to live a more meaningful and colourful life.
Given the growing aspiration of creating startups, we are planning to initiate a trial mentorship scheme to support students to create their own business. We hope that we can come up with the details within two to three years.
Q: What are you expectations for students regarding their learning and campus live?
LAW: In this challenging and ever changing business environment, students need to be more adaptive, eager to learn and proactive. I sincerely hope that during their years in Shue Yan, they can find out their strengths and weaknesses, and be able to strengthen their strengths and fix their weaknesses. After graduation, they can continue to analyse from multiple perspectives, display creativity, work in a responsible and enthusiastic way, and continue to learn for further career and professional development.
Source: October 2020 Issue