On the occasion of celebrating the 50th anniversary, Hong Kong Shue Yan University (HKSYU) has successfully obtained funding from the Self-financing Post-secondary Education Fund's Quality Enhancement Support Scheme to set overseas industrial attachment activities in motion.
Dr. CHUI Chi Fai, director of Industrial Attachment Office (IAO), in an interview explains that HKSYU received HK$5.6 million under the Quality Enhancement Support Scheme in 2018 and established the IAO, offering internship courses in undergraduate programmes. Funding period of this ended by the end of August 2020. This year HKSYU received HK$3.5 million dollars further for work in the following three areas: (1) expansion of overseas internship opportunities; (2) organization of experiential learning activities outside Hong Kong; (3) enhanced support for participants of industrial attachment abroad.
"IAO aims to provide more overseas internship opportunities to students to strengthen their work-related global competency, covering Greater China, Europe, America and Oceania," says Dr. CHUI.
Subsidies for Internship Abroad
With the funding support, a student allowance scheme will be established. It is estimated that 50 quotas will be used for internships in the Greater China region, providing an allowance of HK$5,000 for each student, while 25 quotas will be allocated to overseas internships, with each student getting an allowance of HK$10,000. The allowance covers air tickets, accommodation and other expenses. IAO will also enhance students support by establishing communication platforms between students and their supervisor, and among students through social media.
IAO also plans to organize overseas exchange tours to provide opportunity for students to visit industries and successful enterprises with latest developments in foreign countries and broaden their horizons.
Support for Both Overseas and Local Internship
Dr. CHUI explains that when IAO was first established, only 9 undergraduate programmes offered internship courses. By 2020/2021, internships courses are offered in all 15 undergraduate programmes. Although hampered by the pandemic, in the first semester of 2020/2021, 652 students have completed their internship, while the number of organizations providing internship opportunities has increased by 19.3%, from 713 in 2019/2020 to 883 in 2020/2021.
Up till 2021, IAO has raised more than HK$170,000 which will be used as transportation allowance for local interns.
Dr. CHUI further explains that with sponsorship from the Hong Kong Young Chief Officers' Association (HKYCOA), IAO has been offering "HKYCOA Outstanding Internship Performance Award" to students in the past 3 academic years. The Association will continue to sponsor the award for another 3 academic years.
Dr. CHUI emphasizes that IAO will collaborate with different departments in the future to find internship positions from various sectors and fields, so that students will be able to intern at organizations that suit their personal interests and needs.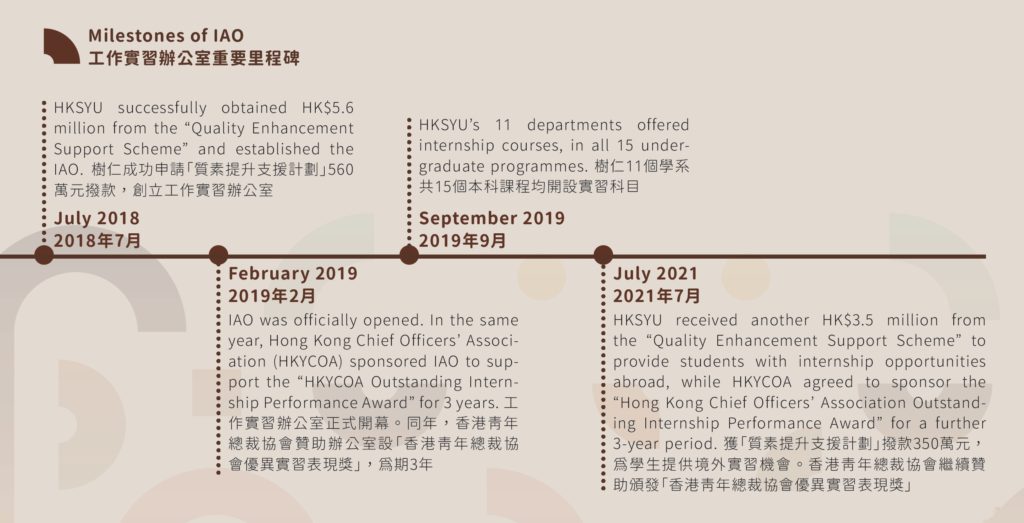 Source:50th Anniversary Special Issue